Metal Cutting machine Horizontal NC controlled band saw machine used for cutting pipe
| | | | | |
| --- | --- | --- | --- | --- |
| | GY-4028 | GY-4028-I | GY-4028/65 | GY4035 |
| Cutting Capacity(mm) | 220Hx400W | 220Hx400W | 200HX650W | 280HX400 |
| Blade Speed (m/min) | 22.48.70 | 28.41.60.80.100 | 20.30.45.70 | 30.55.85 |
| Blade Size (mm) | 27X0.7X3505 | 27X0.7X3505 | 34X1.1X3990 | 34X1.1X4115 |
| Motor Main (kw) | 2.2 | 3 | 3 | 3 |
| Motor Hydraulic (kw) | 0.42 | 0.42 | 0.42 | 0.42 |
| Coolant Pump (kw) | 0.04 | 0.04 | 0.04 | 0.04 |
| Table height (mm) | 610 | 610 | 610 | 610 |
| Workpiece Clamping | Hydraulic clamping | Hydraulic clamping | Hydraulic clamping | Hydraulic clamping |
| Blade Tensioning | Manual | Manual | Manual | Manual |
| Size | 1850x1150x1300 | 1850x1150x1300 | 2000x1150x1350 | 2150x1150x1400 |
| Main Drive | Worm drive | Worm drive | Worm drive | Worm drive |
The horizontal band sawing machine series are semi-automatic metal band sawing machines, renewal products for the old-style hack sawing machines, are mainly used for cutting various ferrous and non-ferrous metal materials, with high saw cutting precision, little saw kerf, stable worm drive performance and high-efficiency and energy saving. They are the ideal blanking equipments for the small pieces.
The feeding of saw cutting adopts stepless speed regulation.

The workholding is combined with hydraulic pressure and manual adjustment with convenient operation.

When GY-4028-I saw is carrying on feeding work, the pump will automatically stop work to reduce energy consumption.
Optional Accessaries:
inverter
nesting fixture for bundle cutting
various vice fixture
hydraulic blade tensioning
roller conveyor
chip conveyor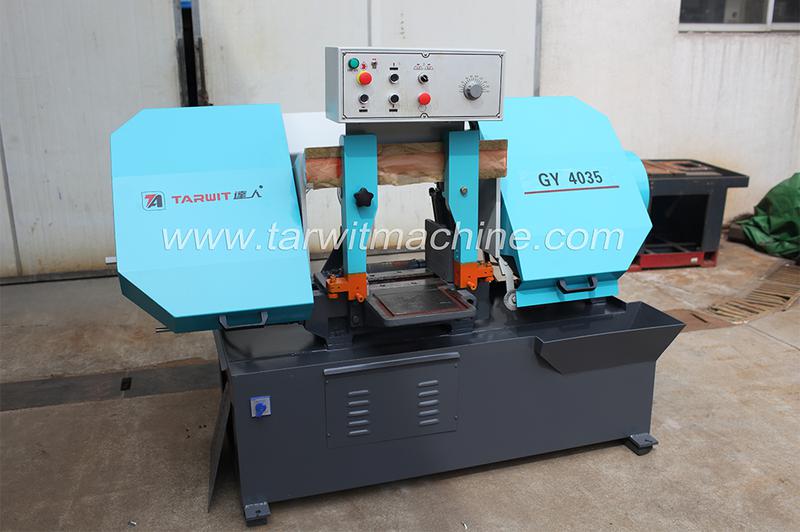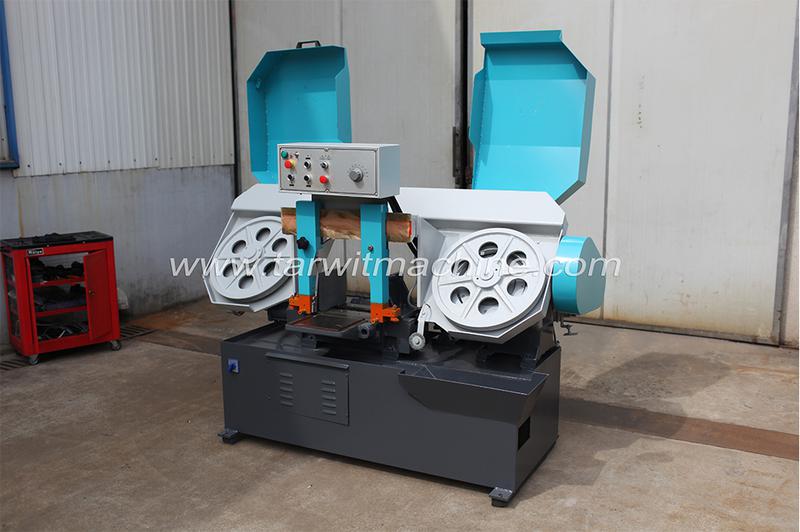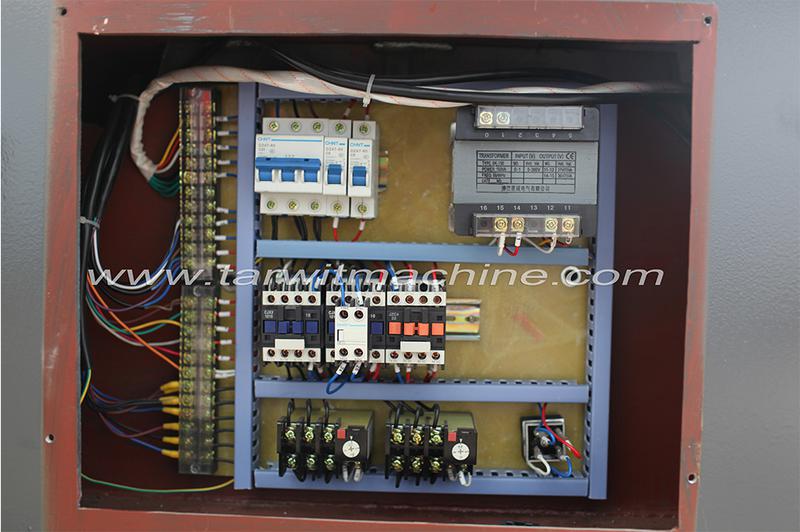 Specifications
| Technical Parameter | Value |
| --- | --- |
| Model | GY 4035 |
| Net weight | 1200 |
| Voltage | 380 |
| Size | 2150*1150*1400 |
| Hydraulic Motor | 0.42kw |
| Blade type & size | 34*1.1*4115mm |
| Blade tension | Manual |
| Rated power | 3kw |
| Cutting capacity | 350mm |
| Blade speed | 30/55/85 m/minute |
| Workpiece clamp | Hydraulic |
| Main drive gears | Worm gear |